via CNN:
America may soon face a question of leadership.
If a president is judged by a growing slice of the population to have abdicated his office's traditional imperative to provide steady, moral and unifying authority, where does the nation turn next?
The fallout of 
Donald Trump's stunning news conference 
Tuesday has focused largely on the equivalence he appeared to draw between white supremacists and protestors opposing their marches in Charlottesville.
Ivanka Trump Silent After Her Father Causes Outrage At Press Conference:
Sequestered on a brief holiday holiday with her husband Jared Kushner in Vermont, Ivanka Trump, President Donald Trump's eldest daughter — one of his senior advisers and the closest member of his family who is Jewish — has yet to comment on the events of her father's Tuesday afternoon press conference.
In the wake of the President's remarks that he believes white supremacists and neo-Nazis are held in equal comparison to the so-called "alt-left" protesters who clashed in Charlottesville, Virginia, over the weekend, Ivanka Trump's silence, 24 hours later, has raised questions about her engagement in the major national controversy, or lack thereof.
Requests by CNN for comment from Trump and Kushner were declined.
Tom Cruise Injured On 'Mission: Impossible 6' Set:
Production on the latest installment of the "Mission: Impossible" franchise is on hold as star Tom Cruise recovers from an ankle injury sustained on set, the film's studio confirms to CNN.
"During production on the latest 'Mission: Impossible' film, Tom Cruise broke his ankle while performing a stunt," Paramount said in a statement to CNN.
They added that filming will "go on hiatus while Tom makes a full recovery," but that the movie is still on track for its original release date — July 27, 2018.
"Tom wants to thank you all for your concern and support and can't wait to share the film with everyone next summer," the statement added.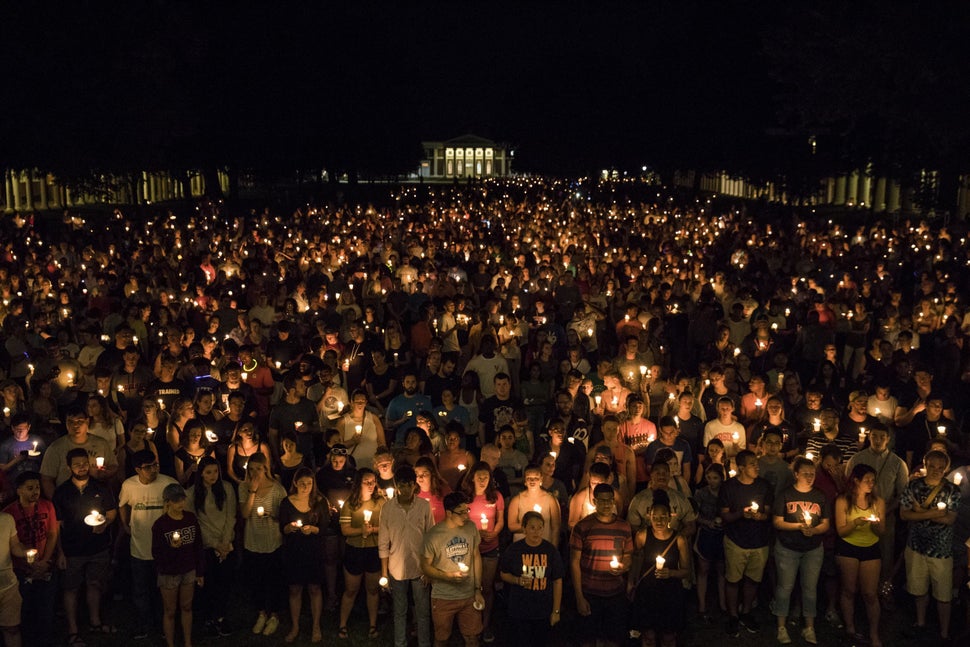 Thousands Gather For Peaceful Candlelight Vigil At UVA:
Thousands gathered Wednesday night for a vigil at the University of Virginia days after violent clashes in Charlottesville led to the death of a woman during a white supremacist rally. The crowd sang, "we are not afraid," a verse from "We Shall Overcome."
The vigil organized by students and faculty grew from word of mouth, phone calls, emails and text messages as the university community tried to begin the healing process. The attendees refrained from publicizing the vigil on social media to ensure everyone's safety, organizers said.
Marvel's 'Defenders' Finds Fun In Superhero Team-Up:
The product of meticulous planning, "Marvel's The Defenders" starts slowly but rewards patience, gradually uniting its "street level" heroes against a somewhat amorphous but bigger-than-any-one-can-handle threat. Cast as the anti-Avengers, this latest Netflix show underscores Marvel's ambitions and ability to wring value out of characters that aren't exactly household names.
Perhaps inevitably, "Defenders" limps along a bit in the early going (four episodes were previewed), juggling not only its four superheroes — Luke Cage (Mike Colter), Jessica Jones (Kristen Ritter), Danny Rand/Iron Fist (Finn Jones), and Matt Murdock/Daredevil (Charlie Cox) — but their assorted sidekicks from previous stand-alone adventures. Even for Marvel aficionados, that's a lot to process.
CLICK HERE to read story
Also On Praise Cleveland: