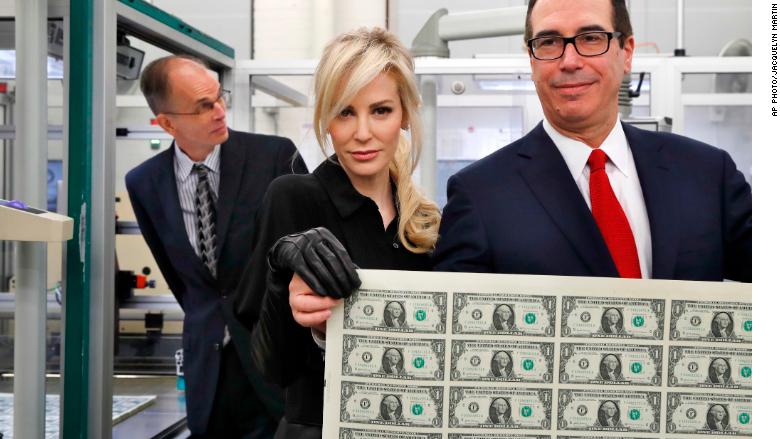 via CNN:
Steven Mnuchin's wife strikes a pose with a sheet of money:
Louise Linton, the wife of Treasury Secretary Steven Mnuchin, looks thrilled that her husband's signature made it onto the dollar bill.
Linton and Mnuchin posed with sheets of new $1 bills on Wednesday at the Bureau of Engraving and Printing in Washington, D.C. The notes are the first to feature Mnuchin's signature, along with that of U.S. Treasurer Jovita Carranza, and are expected to enter circulation in December.
Linton was widely criticized earlier this year when she posted a photo on Instagram that showed her stepping off a government plane. She flaunted her designer wardrobe by tagging the designers she was wearing, then argued with a commenter who criticized her "getaway
UCLA players arrested in China apologize:
College basketball players Cody Riley, LiAngelo Ball and Jalen Hill publicly apologized Wednesday after they were accused of shoplifting in China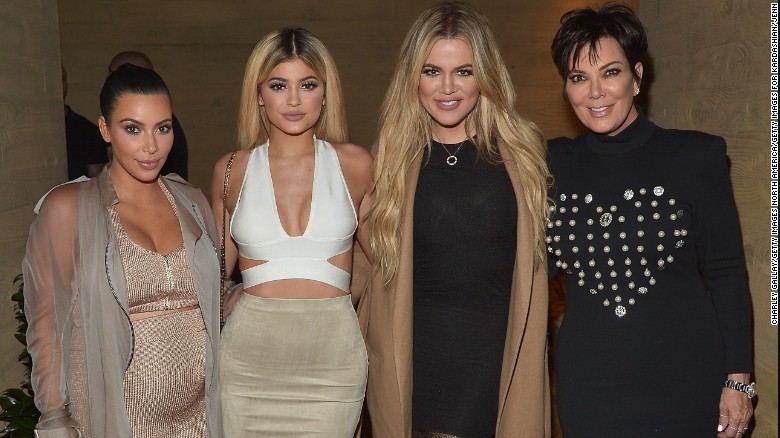 Kim Kardashian West confirms sex of baby:
Turns out all that pink at Kim Kardashian West's baby shower was a major hint.
The reality TV star and her husband, rapper Kanye West, are expecting their third child via a surrogate.
Kardashian West revealed to Ellen DeGeneres 
on her talk show Wednesday
 that the new baby is a girl and her 4-year-old daughter, North, is excited.
"We had a baby shower over the weekend, and I thought, you know, I really do want to have a baby shower because I want (North) to feel that something's coming and for her to really understand it," Kardashian West said.
"People brought toys and gifts, and (North) was opening them all up the next day and she goes, 'Mom, since baby sister's not here, I think I need all of her toys in my room and play with them and make sure they're all OK for baby sister.' "
Roy Moore's lawyer casts doubt on accuser's story, yearbook inscription:
Former Judge Roy Moore continues to deny allegations of sexual abuse against him, his attorney Phillip L. Jauregui said at a news conference Wednesday, during which he attempted to cast doubt on the story of one of Moore's accusers.
Jauregui specifically focused on pushing back on the 
accusation
 from Beverly Young Nelson, 56, who said on Monday that Moore sexually assaulted her when she was 16 years old. Jauregui took issue with the statements of Nelson and her attorney Gloria Allred, saying Nelson falsely claimed that she never spoke to Moore again after the time of her alleged assault.
Republican governors fear a 2018 midterm wipeout after Virginia loss:
Republican governors sense a wave coming — and they're terrified it could wipe them out in next year's elections.
The three dozen GOP governors gathering here this week for a Republican Governors Association meeting — including some close allies of President Donald Trump — said they were jarred by Democrats' easy victory in the Virginia governor's race last week.
"Just simply the intensity of the opposition — I think that's what was reflected in the Virginia vote," said Arkansas Gov. Asa Hutchinson. "That should be a wake-up call to all of our supporters in the elections next year."
CLICK HERE to read story
Also On Praise Cleveland: