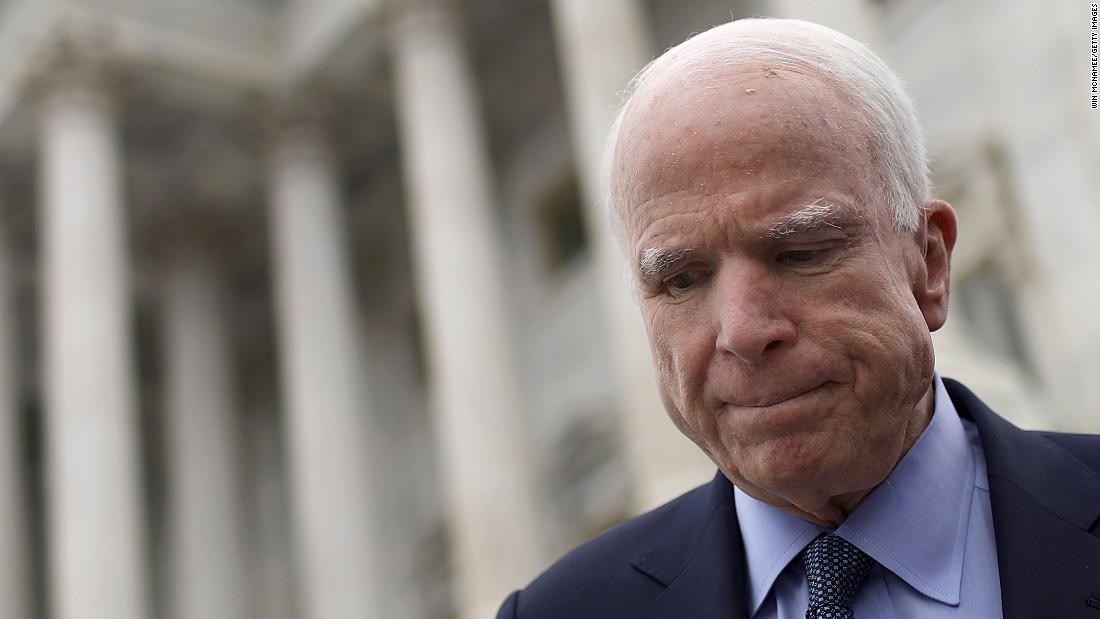 via CNN:
McCain's last message read aloud as Washington returns to work without him:
Republican Sen. John McCain had one more message for his fellow Americans.
"We weaken our greatness when we confuse our patriotism with tribal rivalries that have sown resentment and hatred and violence in all the corners of the globe," Davis read from McCain's letter. "We weaken it when we hide behind walls, rather than tear them down, when we doubt the power of our ideals, rather than trust them to be the great force for change they have always been."
In his letter, McCain noted he had lived a "rewarding life," full of friendships and love, adventure and even at times extraordinary hardship that he wouldn't trade.
Jacksonville shooter had history of mental illness and police visits to family home:
David Katz, the shooter who killed two people and wounded 10 others before taking his own life at an e-sports tournament in Jacksonville, Florida, on Sunday, was in treatment for psychiatric issues at least as early as the age of 12, according to family divorce records.
Katz, who was 24, was prescribed a number of psychiatric medications, including an antipsychotic, and saw "a succession of psychiatrists," according to a 2006 letter from the father's attorney. A separate 2006 court filing states that a therapist said David had experienced a "psychiatric crisis."
CNN also obtained police records that show 26 calls for service to the police from the Katz family home in Columbia, Maryland, from 1993 to 2009, for issues ranging from "mental illness" to domestic disputes. At least two of those calls involved Katz arguing with his mother, though none of the reports provided to CNN show any physical violence. The Howard County Police Department declined to release the reports from a number of the incidents, citing statutory restrictions.
Luis Gonzalez, Shane Doan to Attend Senator John McCain's Memorial Ceremony:
Former Arizona Coyotes forward Shane Doan and former Arizona Diamondbacks outfielder Luis Gonzalez will serve as pallbearers for the funeral of United States Sen. John McCain, Arizona Sports' Matt J. Laymanreported Monday.
McCain died Saturday, a day after ending treatment for his brain cancer. He had represented the state of Arizona in the U.S. Senate since 1986.
McCain's time in office overlapped with Doan and Gonzalez's playing careers.
Doan spent 20 seasons with the Coyotes before retiring in August 2017. The franchise will retire his No. 19 jersey in February. When Doan walked away from the game, McCain published an official statement in praise of the former captai
Law firm alleges neglectful medical care after child dies weeks after ICE custody:
A mother and her lawyers allege that ICE and those running an immigration facility in Texas provided substandard medical care for her toddler, who died six weeks after they were released.
Yazmin Juarez, 20, and her 18-month-old daughter, Mariee, were detained at a facility in Dilley, Texas, "with unsafe conditions, neglectful medical care, and inadequate supervision," according to her law firm in a statement.
Shortly after they arrived at the South Texas Family Residential Center in March, Mariee contracted a respiratory infection that her lawyers at the firm of Arnold & Porter allege "went woefully under-treated for nearly a month."
John Goodman says Dan will be 'sad because his wife's dead' on 'The Conners':
John Goodman minces no words in his first public comments since ABC canceled "Roseanne" in a cloud of controversy, saying he was "broken-hearted" by the events that took place after Roseanne Barr's well-publicized Twitter tirade.
"I went through a period, about a month, where I was very depressed," Goodman told the UK's 
Sunday Times
 in his first interview since the reboot was axed and later re-branded "The Conners," minus star Barr. "I'm a depressive anyway, so any excuse that I can get to lower myself, I will. But that had a great deal to do with it, more than I wanted to admit."
ABC made the decision to cancel its top-performing "Roseanne" reboot after Barr wrote a series of derogatory tweets about Valerie Jarrett, Chelsea Clinton and George Soros.
"The Conners," a spin-off, will not feature Barr and center on the rest of the family. It was picked up by the 
network in June
.
CLICK HERE to read story
Also On Praise Cleveland: