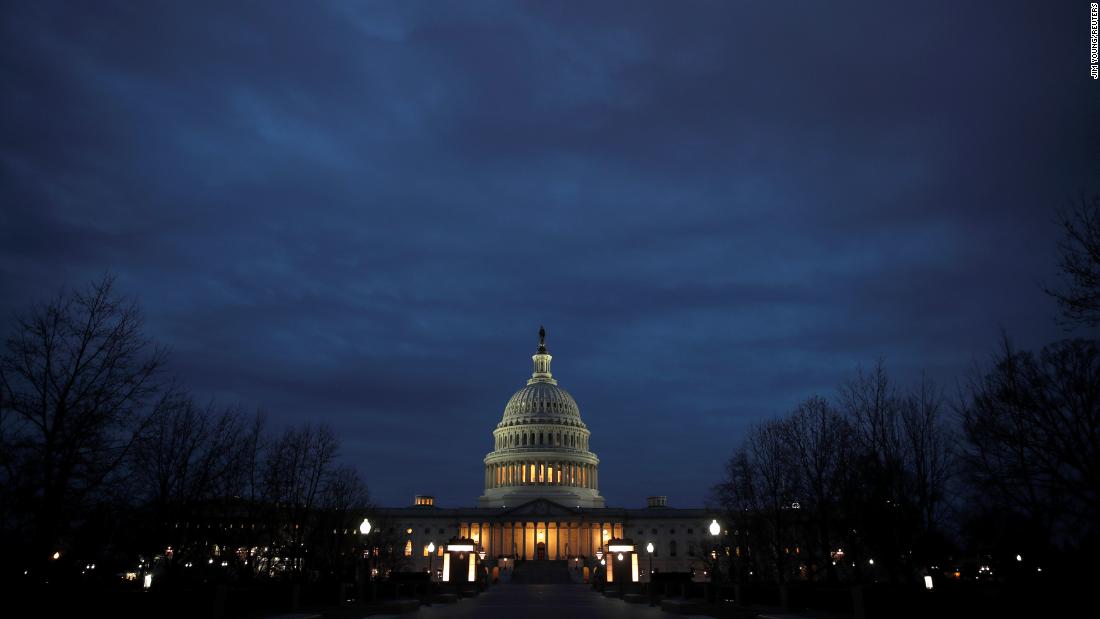 Federal employees union sues government over lack of pay:
A federal employee labor union is suing the US government for requiring "essential" employees to work without pay during the partial government shutdown.
The American Federation of Government Employees alleged Monday that the government is violating the Fair Labor Standards Act by forcing employees deemed essential to work without pay.
About a quarter of the government 
has been affected by the shutdown, including correctional officers, Border Patrol and Immigration and Customs Enforcement agents, and transportation security officers. Across different government agencies, about 380,000 federal employees will be furloughed and 420,000 will work without pay due to the shutdown continuing into the new year.
House Democrats to pass plan to reopen government Thursday:
House Democratic leaders have settled on a legislative strategy to reopen the government, with votes expected on proposals just hours after the party takes control on Thursday, a Democratic aide confirms to CNN.
The Democrats plan to vote on a bipartisan package of six Senate spending bills and a stopgap measure to re-open the Department of Homeland Security at its current funding levels until February 8, the aide said. The temporary measure would maintain the current $1.3 billion in border security money, which can be used for fencing and repairs of current barriers.
"The President is using the government shutdown to try to force an expensive and ineffective wall upon the American people, but Democrats have offered two bills which separate the arguments over the wall from the government shutdown," incoming House Speaker Nancy Pelosi and Senate Minority Leader Chuck Schumer said Monday in a statement.
A masked man with a loaded gun was arrested on his way to a Texas church to fulfill a 'prophecy':
A scary situation in Seguin, Texas, came to a peaceful end when an off-duty police officer apprehended a man who was wearing a surgical mask, carrying a handgun and acting erratically.
According to the Seguin Police Department, the officer approached Tony Dwayne Albert II on Sunday after concerned bystanders reported Albert for suspicious behavior. The officer noted that Albert was "wearing tactical style clothing, a surgical face shield, carrying a loaded firearm and extra ammunition."
An SPD spokeswoman said Albert claimed he was looking for the First Baptist Church in Vidor, Texas, where he planned to fulfill what he called a "prophecy." Vidor is about 250 miles east of Seguin.
NASA mission has New Year's flyby of object 4 billion miles away:
As people were ringing in the new year on Earth, NASA's New Horizons spacecraft conducted a flyby of Ultima Thule, a Kuiper Belt object more than 4 billion miles away.
Or so we hope. We won't actually know until a "phone-home call" signal is established Tuesday morning around 10 a.m. ET. But mission scientists celebrated the countdown to 12:33 a.m. ET at the Johns Hopkins University Applied Physics Laboratory.
Brian May, Queen guitarist and astrophysicist, is also a participating scientist in the New Horizons mission. He's particularly interested in stereo imaging for this leg of the mission. But he was also inspired to release a new song celebrating New Horizons on New Year's Day.
Poncho party rings in 2019 at Times Square:
Oh, what a difference a year makes, at least for New Year's Eve weather conditions in Times Square.
Unlike the near-subzero temperatures crowds experienced last December 31 in New York City, Times Square welcomed in 2019 with rain and mild weather.
In other words, out with the parkas and in with ponchos.
The forecast was wet enough for the New York Police Department to cancel what was set to be the first New Year's Eve deployment of 
its new fleet of drones
 over Times Square.
CLICK HERE to read story
Also On Praise Cleveland: