St. Louis Blues win first Stanley Cup title, defeating Boston Bruins:
The St. Louis Blues won their first Stanley Cup in their 52-year history after defeating the Boston Bruins 4-1 in Game 7 of the Stanley Cup Final on Wednesday.
St. Louis took the series four games to three and is the second team in as many years to win the Stanley Cup for the first time, following the Capitals in 2017-18.
The Blues led 2-0 after the first period and added two more in the third. Goaltender Jordan Binnington stopped 32 of 33 shots.
Central Park Five case prosecutor resigns from Columbia Law School in latest fallout:
A prosecutor in the Central Park Five trial has left her post at Columbia Law School in the latest fallout from the portrayal of the case in a Netflix miniseries.
Elizabeth Lederer, who taught at the school and still works for the Manhattan district attorney's office, told law school Dean Gillian Lester on Wednesday that she enjoyed her years at Columbia but has decided not to renew her teaching application due to the publicity generated by Netflix's portrayal of the case.
The Columbia Black Law Student's Association had called for her resignation and launched a petition demanding she step down.
Trump throws open 2020 election to foreign spies:
Even in a presidency that long ago burned through all conceivable superlatives, Trump's statement was a stunner.
Mira Sorvino reveals she is a rape survivor:
Actress Mira Sorvino, who has been one of the most vocal voices in the #MeToo movement, says she is a survivor of rape.
Sorvino made the revelation during a press conference on Wednesday, alongside New York Governor Andrew Cuomo, in an effort to encourage the state legislature to eliminate New York's statute of limitations on rape in the 2nd and 3rd degrees and pass additional sexual harassment protections before the end of the legislative session next week.
"This whole #MeToo [movement] this has been wonderful, but it has been highly traumatizing for me on a personal level just because I have had to revisit my past and my demons in a way that I really had not fully explored… I had not really dealt with past traumas," Sorvino said tearfully. "I had not really sought out the help I needed, so this past year and a half has been a very interesting and hard and wonderful time for me. But I can stand here before you and say not only was I a sexual harassment and battery victim at the hands of Mr. Weinstein, but I'm also a sexual assault victim and I'm also a survivor of date rape."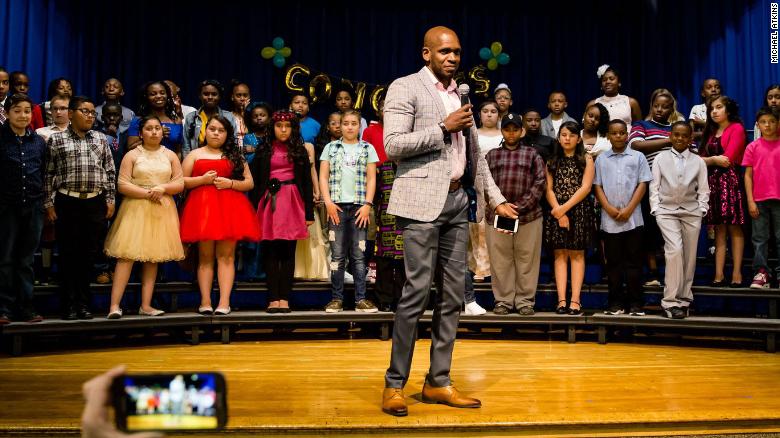 He started as a custodian. Now he's a principal in the same school district.:
Newly appointed principal Michael Atkins has filled nearly every role in the Denver public school system, but his career in education began in an unconventional spot: custodial services.
Atkins, 39, now leads Stedman Elementary School in northeast Denver with a unique perspective and a will to end the same racial disparities he faced as a student.
"I have an opportunity to do diversity right," he told CNN.
As a child, Atkins was bused from his predominantly black neighborhood to a predominantly white middle school as part of a district desegregation initiative. But he saw clear differences in what classes students took and how teachers treated them based on race.
CLICK HERE to read story
Also On Praise Cleveland: