via FirstLadyB:
Patti Labelle took em to church during philanthropist Denise Rich annual cancer research fundraising gala……. The Angel Ball.
The legendary singer performed some oldies but goodies like "New Attitude" and a powerful rendition of "Somewhere Over the Rainbow" that brought attendees at the gala to tears according to Pagesix.
CLICK HERE to read story
A Gallery Of Patti LaBelle GIFs Because They Exist
1. Patti "In Da Club"
Source:
1 of 13
2. Patti Kicks!
Source:
2 of 13
3. Patti Makes Executive Decisions
Source:
3 of 13
4. Patti Touches Herself
Source:
4 of 13
5. No Really. Patti Touches Herself!
Source:
5 of 13
6. Patti Luxuriating Before "Da Club"
Source:
6 of 13
7. Patti Line Dances
Source:
7 of 13
8. Patti Twerks?!
Source:
8 of 13
9. Patti Gets Jiggy With It
Source:
9 of 13
10. Patti References Herself
Source:
10 of 13
11. Patti Checks Up On You
Source:
11 of 13
12. When Patti Is Snubbed
Source:
12 of 13
13. Patti Gives Props Where Props Are Due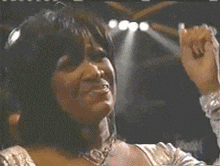 Source:
13 of 13