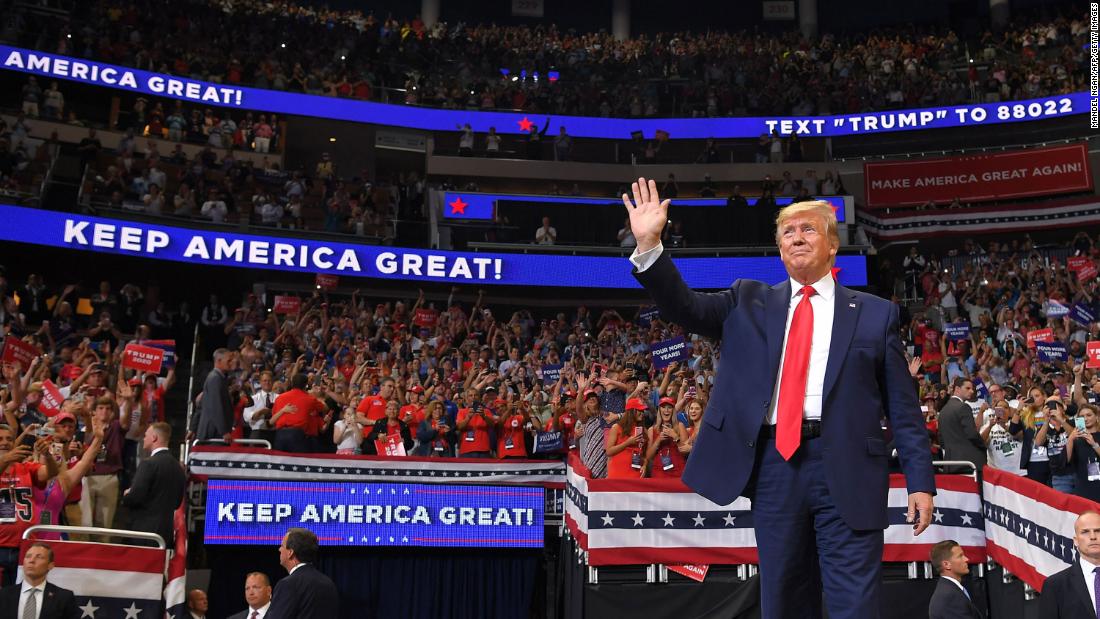 Trump relies on campaign nostalgia — and Hillary bashing — to launch 2020 bid:
Swimming in nostalgia, 
Trump played all the old hits
. He bashed Hillary Clinton, jabbed the "fake news," invoked fear over immigrants and marveled at the glory over his shock election win.
He partied like it was 2016.
But Trump's ceremonial 2020 campaign launch rally also reverberated with the unity-shredding grievances that threaten to whip up equal fervor against him and could make him a one-term President.
Feds seize more than 16 tons of cocaine at Philadelphia terminal:
Under the cover of night, members of a ship's crew loaded "bales" of cocaine onto a vessel bound for the United States, expecting to earn tens of thousands of dollars for the job.
Instead, US authorities seized the haul, totaling about 16 and a half tons with an estimated street value of $1 billion, according to federal prosecutors.
The drugs were found Monday in seven shipping containers on the MSC Gayane after it arrived at Packer Marine Terminal in Philadelphia, according to a federal complaint filed Tuesday in US District Court for the Eastern District of Pennsylvania.
The US Attorney's Office 
called it
 one of the largest drug seizures in US history
Hershey's is giving its best candy bar a makeover:
The Take5 bar, made of chocolate, caramel, peanuts, pretzels and peanut butter, is basically a candy-lover's dream. It just topped the Los Angeles Times' 
candy bar power rankings
. Yet only 3% of US households purchased a Take5 bar last year.
Hershey
 decided that the issue was the green and black label. It didn't stand out, and the brand didn't resonate with people. Hershey decided to elevate one of Take5's five flavors: Reese's peanut butter.
It's Juneteenth: Let's talk about reparations for slavery:
For 246 years our laws supported a system that made people slaves, divided families, and treated human beings as property. And for nearly 100 after Reconstruction, that dark legacy continued with Jim Crow laws throughout the country.
African Americans were purposefully deprived of opportunity, the ability to exercise their rights, equal access to education, health care, public facilities and other programs. The civil rights movement of the '60s made important progress, but discrimination and the long term effects of segregation still linger.
Suicide rates among America's young people continue to soar, study shows:
Suicide rates among young people have continued to soar in recent years — so much so that the rate among 15- to 24-year-olds climbed in 2017 to its highest point since 2000, new research has found.
An increase was especially seen among 15- to 19-year-olds and young men, according to a research paper published Tuesday in 
the medical journal JAMA
.
The finding hits close to home for the paper's first author, Oren Miron, a research associate at 
Harvard Medical School
.
CLICK HERE to read story