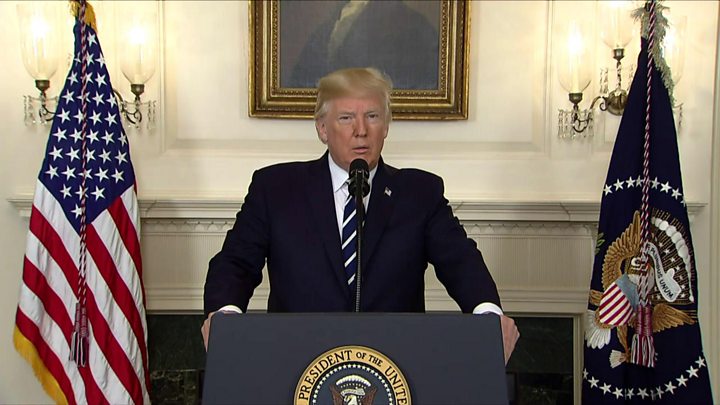 This is Trump's big chance on changing gun laws:
If President Donald Trump is truly serious about his vow to come up with "solutions" to gun violence, he has a golden chance to show it this week.
Trump could march into the Conservative Political Action Conference, a bulwark of support for the Second Amendment, on Friday and explain why change is needed following the latest mass tragedy last week at Marjory Stoneman Douglas High School in Parkland, Florida.
The timing of the annual conservative jamboree is auspicious because it will offer Trump access to activists on the right, who he must win over to get anything significant done.
On Tuesday, facing rising political heat after the Parkland massacre, Trump, as he often does, blamed his predecessors for a lack of action and said he would be different, despite widespread skepticism among gun control activists about his sincerity and capacity to make the case for change.
CNN to hold town hall with students and Florida's politicians:
The mass shooting at Marjory Stoneman Douglas High School has set off a national discussion on gun laws and how to keep communities safe.
On Wednesday, CNN will air a nationally televised town hall to be held with students, parents, community members as well as some of Florida's politicians, called "Stand Up: The Students of Stoneman Douglas Demand Action."
The town hall will go from 9 p.m. to 11 p.m. ET, at the BB&T Center in Sunrise, Florida. The event will be available on air as well as on CNN.com.
Rep. Ted Deutch, Sen. Bill Nelson and Sen. Marco Rubio have accepted invitations to participate in the town hall.
Queen Elizabeth joins Anna Wintour on front row of London Fashion Week:
A Swarovski-studded Queen Elizabeth II graced the front row of London Fashion Week, brushing shoulders with longtime Vogue editor Anna Wintour, during a surprise visit to the event on Tuesday. The 91-year-old monarch, wearing a powder blue tweed dress and jacket by her personal advisor Angela Kelly, could be seen chatting with Wintour and clapping her black-gloved hands as models walked in British designer Richard Quinn's runway show
Fergie Comments on National Anthem Performance: I 'Honestly Tried My Best':
Music star Fergie acknowledged she may have missed the mark with her rendition of the national anthem before the start of the 2018 NBA All-Star Game on Sunday.
"I've always been honored and proud to perform the national anthem, and last night I wanted to try something special for the NBA," she said in an interview with TMZ Sports. "I'm a risk-taker artistically, but clearly this rendition didn't strike the intended tone. I love this country and honestly tried my best."
Music star Fergie acknowledged she may have missed the mark with her rendition of the national anthem before the start of the 2018 NBA All-Star Game on Sunday.
Husband of Florida woman who went missing at sea faces murder charge:
A British man who is already in US federal custody will face a second-degree murder charge in connection with the disappearance of his wife, who went missing while the couple sailed through the Florida Straits last year, according to a criminal complaint.
Bennett, 41, was rescued from a life raft about 30 miles west of Cay Sal, Bahamas, an island near Cuba's northern shore. The couple's catamaran was not far away.
An FBI agent says in an affidavit filed Saturday that he believes Bennett intentionally scuttled the couple's vessel late on May 14 or early May 15. The affidavit concludes, "There is probable cause to believe that … Bennett … killed Hellman.
CLICK HERE to read story
Also On Praise Cleveland: