via CNN:
Then, 
The Washington Post published
 a bombshell report that at least four countries had discussed how to use Kushner's sparse experience, financial troubles and intricate business arrangements to manipulate him.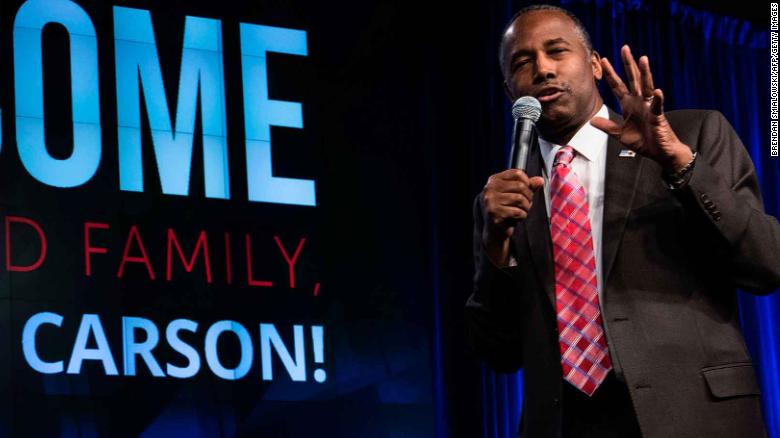 HUD spent $31,000 in 2017 on new dining room set for Carson's office:
The Department of Housing and Urban Development spent $31,000 last year to replace a dining room set in the office of Secretary Ben Carson, according to federal records and a whistleblower.
The revelation follows CNN's reporting
 that in early 2017, a top HUD career employee was pressured to find funds beyond the legal $5,000 limit to renovate Carson's office. The official, Helen Foster, alleges she was demoted from her job after pushing back on the requests and that the acting HUD secretary, Craig Clemmensen, told her that Carson's wife, Candy, was behind the requests.
The dining set, in the secretary's dining room at HUD headquarters, was replaced because it was in a state of disrepair, according to a department official.
West Virginia teachers back to work after reaching deal with governor:
There is still work to be done in the Legislature, but West Virginia schoolteachers will be back at work Thursday after a four-day walkout over pay and benefits.
The question is how long they will stay in their classrooms.
On Tuesday, Gov. Jim Justice announced teachers and other education-related employees would be getting a 5% pay raise in the first year, as long as lawmakers approve it in a new bill.
Justice, who said he changed his position on raises after talking to a sixth-grader, told reporters he has spoken to the leaders of the Senate and the House and he was "very, very hopeful" a bill would pass soon replacing one that included a smaller cumulative raise over more time.
11 ill after suspicious letter arrives at military base:
Eleven people fell ill after a suspicious letter was opened in an administrative building at Joint Base Fort Myer-Henderson Hall in Arlington, Virginia, on Tuesday, according to the Arlington County Fire Department.
A law enforcement official said field tests for the letter all came back negative for any harmful substance, but the FBI is transporting it tonight to its lab in Quantico for further analysis.
Of the 11 individuals who felt ill, three were transported to a local hospital and are in a stable condition, a spokesperson for the department said.
"An envelope containing an unknown substance was received, today, aboard Joint Base Ft. Myer-Henderson Hall. Personnel in the affected building took immediate preventative measures by evacuating the building," according to Maj. Brian Block, a US Marine Corps spokesperson.
Warriors, Students from Kevin Durant's Hometown to Tour African American Museum:
The Golden State Warriors will finally celebrate their 2016-17 NBAchampionship in Washington, D.C., on Tuesday.
Per ESPN's Chris Haynes, the Warriors and students from Kevin Durant's hometown of Seat Pleasant, Maryland, will tour an African American museum in the nation's capital.
Klay Thompson told Tim Bontemps of the Washington Post that visiting the White House is a "great honor," but the team felt "uncomfortable going" due to other circumstances.
CLICK HERE to read story
Also On Praise Cleveland: