via CNN:
For President Donald Trump, every crisis in America's immigration system is an opportunity.
As controversy grows over his administration's treatment of children separated
 from undocumented immigrant parents
 Trump is seeking a political opening to damage his opponents and solidify his own support.
It's a classic strategy that he has deployed in toxic immigration wars before: Tout his toughness and dedication to law and order while blaming Democrats for not fixing the system's problems.
It's a play that is likely to win approval from GOP base voters who saw in Trump a truth teller on immigration whose tough policies and promise to build a wall could lacerate what they saw as liberal political correctness over the issue. Trump opponents see his policies as appeasing a hard-line stream of nationalist thought on the far right that is dedicated to stopping both illegal and legal immigration.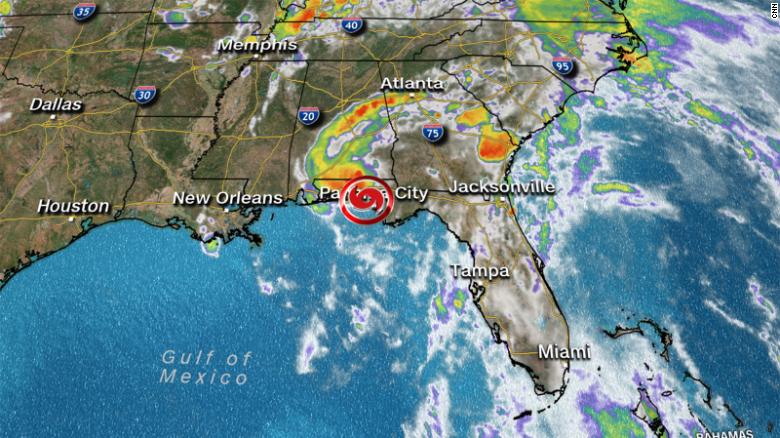 Alberto weakens to depression, but threat remains:
Alberto was downgraded to a subtropical depression Monday night, after drenching the Southeast with rain and killing at least two people.
Despite weakening to a depression, the threat from Alberto remained from possible flooding and heavy rains. Storm watches and warnings were discontinued for coastal regions, but those inland remained in effect. Alberto will continue its course north bringing heavy rain to Alabama through the Tennessee Valley on Tuesday.
"Two journalists working to keep the public informed about this storm have tragically lost their lives, and we mourn with their families, friends and colleagues," North Carolina Gov. Roy Cooper said in a statement. "North Carolina needs to take Alberto seriously."
Teacher who tackled gunman speaks out for the first time since getting shot:
Jason Seaman didn't give much thought to the most dangerous decision of his life.
When an armed student entered his Indiana classroom and started firing, the teacher lunged at the shooter and stopped the gunfire.
"My actions on that day, in my mind, were the only acceptable actions I could have done," said Seaman, a 7th-grade science teacher at Noblesville West Middle School.
Stephen Curry, Warriors Survive James Harden, Rockets and Advance to NBA Finals:
The more things change, the more they stay the same.
While some of the pieces are different, the Golden State Warriors and Cleveland Cavaliers will face each other in the NBA Finals for the fourth consecutive year after the defending champions beat the Houston Rockets 101-92 in Monday's Game 7 of the Western Conference Finals at Toyota Center.
Kevin Durant (34 points, five assists and five boards) and Stephen Curry(27 points, 10 assists, nine rebounds and four steals)led the way, while James Harden (32 points, six assists, six rebounds and four steals)fell short in his effort to propel the Rockets to the Finals for the first time since 1995.
Starbucks around the US are closing for anti-bias training: What you need to know:
Starbucks will close about 8,000 company-owned locations on Tuesday afternoon to offer 175,000 employees a mandatory anti-bias training.
Most of the 7,000 licensed stores, including those operated by hotels, grocery stores and airports, should be open. Participating stores will close around 2 p.m. to 3 pm, local time. Here's what you need to know.
Why is Starbucks doing this? Starbucks (SBUX) announced the training soon after two black men were arrested at a Philadelphia Starbucks in April.
A store manager called the police because the men were sitting in the store without placing an order. They were arrested for trespassing. The men, who had previously asked for the code needed to use the store's bathroom, said they were waiting for a friend.
CLICK HERE to read story
Also On Praise Cleveland: