Brooklyn man sentenced to life without parole in slaying of jogger:
A Brooklyn man convicted of brutally killing a jogger in Howard Beach, Queens, was sentenced Tuesday to life in prison without the possibility of parole.
Authorities said Chanel Lewis, 22, pulled Karina Vetrano, 30, from a running path on August 2, 2016, sexually abused her and strangled her to death not far from her home.
Her father, Phil Vetrano, notified police when she didn't come home and found the body while searching with police officers. Lewis was arrested in February 2017 after an intense investigation and massive media attention.
'Jeopardy!' contestant wins again, bringing his total to more than $1 million:
The professional sports gambler wowed the game show's audience again after he won for the 14th time Tuesday.
Holzhauer won $118,816 in the game that aired Tuesday. That brought his total earnings on the 
Alex Trebek-hosted show
 to $1,061,554. He's the second person in the show's history to earn more than $1 million in the regular season.
"Despite what 'The Social Network' says, $1 million felt really cool," Holzhauer said in a statement.
E. coli outbreak from tainted ground beef expands to 10 states:
At least 156 people in 10 states have been infected with E. coli after eating tainted ground beef at home and in restaurants, federal officials said.
The cases include people who've eaten the beef since March 1, it said, but no supplier, distributor or brand of beef has been identified.
"Traceback investigations are ongoing to determine the source of raw ground beef supplied to grocery stores and restaurant locations where ill people reported eating," the CDC said.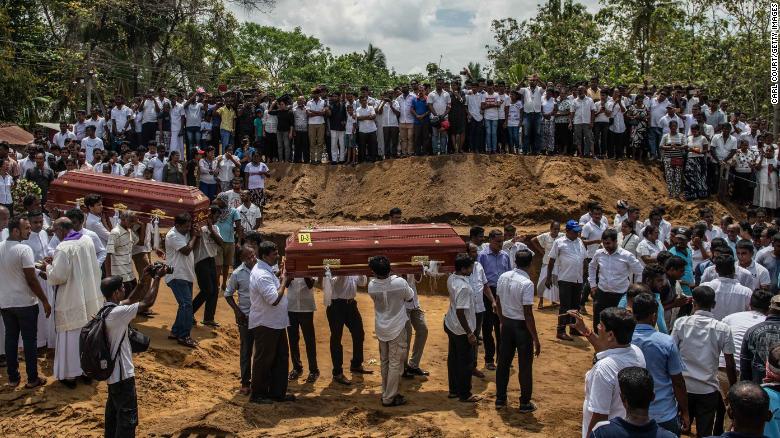 ISIS suspect gave advance warning of Sri Lanka bombings, source says:
Early warnings from India's intelligence services to Sri Lankan officials ahead of the Easter Sunday bombings were based on information gleaned from an ISIS suspect, CNN has learned.
Delhi passed on unusually specific intelligence in the weeks and days leading up to the attacks, Sri Lankan officials have said, and at least some of it was gleaned from material obtained during interrogations of an ISIS suspect arrested in India, an Indian official told CNN.
The suspect gave investigators the name of a man he trained in Sri Lanka, who is associated with a local extremist group implicated in the bombings, the source said. The man, Zahran Hashim, was identified in a video of the purported attackers released Tuesday by ISIS, which claimed responsibility for the Easter Sunday killings.
A 24-year-old man has come forward to claim the third-largest jackpot in US lottery history:
Manuel Franco has been buying Powerball tickets since he turned 18.
It's paid off.
Now 24, the Wisconsin resident is taking home the third-largest jackpot in US lottery history.
CLICK HERE to read story
Famous Vegans and Vegetarians
1. Mya
1 of 11
2. Mike Tyson
Source:AP Photo/Mark A. Stahl,
2 of 11
3. Beyonce
Source:Evan Agostini/Invision/AP
3 of 11
4. Angela Davis
Source:Jake May/The Flint Journal via AP
4 of 11
5. Venus Williams
Source:AP Photo/Crystal Chatham
5 of 11
6. Meghan Markle
Source:Alexi Lubomirski/Kensington Palace via AP
6 of 11
7. Jhené Aiko
Source:CelebLens / PRPhotos.com
7 of 11
8. Senator Cory A. Booker
Source:AP Photo/Charlie Neibergall
8 of 11
9. Leona Lewis
Source:Landmark / PR Photos
9 of 11
10. Ariana Grande
Source:Chris Pizzello/Invision/AP
10 of 11
11. Stevie Wonder
11 of 11