via CNN:
Female shooter at YouTube headquarters identified:
The woman who shot three people at YouTube headquarters in Northern California has been identified as Nasim Aghdam, two law enforcement sources told CNN.
The woman took her own life after the shootings. She was found at the scene and appeared to have killed herself with a handgun, but the investigation is just beginning, San Bruno Police Chief Ed Barberini said.
"We know very, very little right now, and we probably won't know more until tomorrow morning," the chief said.
A fourth person was injured as people scrambled off the patio outside the cafe on campus.
The shooter is believed to have known at least one of the victims, two law enforcement officials told CNN.
The shooter's motive was unclear, Barberini said, adding that it's unclear whether the shooting was a domestic violence incident.
Trump's base-pleasing border tweets foreshadow 2018 role:
These are the base-rallying call signs President Donald Trump has deployed on Twitter in the last week, just as he is facing a rare onslaught of criticism from pockets of his right-wing base over 
a $1.3 trillion spending measure
 he signed that didn't include new border wall funding. The law included about $1.6 billion for border security.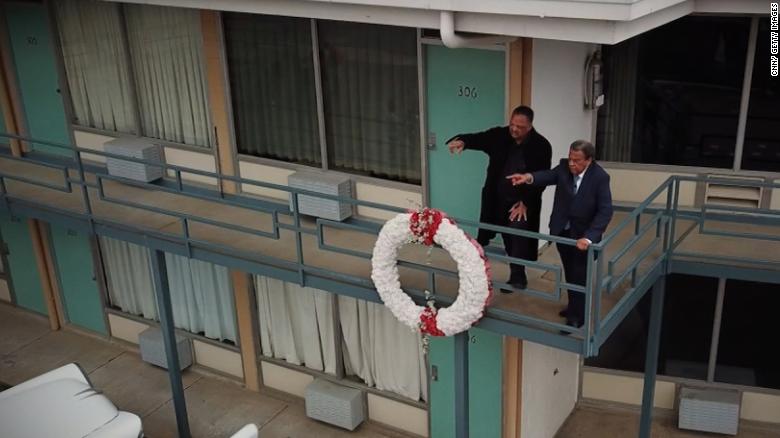 The question that haunts Martin Luther King's last day in Memphis:
It's April 4, 1968, and the Rev. Martin Luther King Jr. steps outside his room at the Lorraine Motel in Memphis, Tennessee, and leans over the balcony.
King has been in an anxious mood all day, and his room reflects his hurried state of mind. His bed remains unmade, and his suitcase — containing his hair brush, clothes, a can of Magic Shave and a copy of his book, "Strength to Love" — remains unpacked.
As King stands on the balcony, he asks a saxophonist in the courtyard below to play his favorite song, "Take My Hand, Precious Lord," at a rally he's leading later that night.
Tracy Morgan makes tepid comeback in TBS comedy 'The Last O.G.:
Tracy Morgan's remarkable recovery from a devastating car accident is an inspiring footnote to "The Last O.G.," but can't overcome the fact that the "Saturday Night Live" alum is a somewhat awkward fit with this basted-in-seriousness TBS comedy, which, with Tiffany Haddish and "Get Out" director Jordan Peele, feels like a whole lot less than the sum of its parts.
Simply put, Morgan's broad approach to comedy — characterized by his work on "SNL" and supporting role on "30 Rock" — has to be reined in on this single-camera half-hour, which casts him as an ex-con who is stunned by how much the outside world has changed during his 15-year prison stint
Trauma surgeon in YouTube shooting vents his frustration over continuing gun violence:
As a trauma surgeon, Dr. Andre Campbell has patched up victims of gun violence for decades, privately venting with colleagues about the epidemic.
Those private conversations became public Tuesday.
Campbell, who helped treat victims injured in a 
shooting at the YouTube headquarters
 in California hours earlier, made pointed comments about gun violence in a press conference about victims of the shooting.
"To think that after we've seen 
Las Vegas
, Parkland, the Pulse nightclub shooting, that we would see an end to this, but we have not," 
Campbell
, an attending trauma surgeon at Zuckerberg San Francisco General Hospital and Trauma Center, told reporters.
CLICK HERE to read story
Also On Praise Cleveland: