via CNN
NAACP warns black passengers about traveling with American Airlines:
The NAACP has warned African-American travelers to be careful when flying with American Airlines.
The group issued an advisory late Tuesday, saying it has noticed "a pattern of disturbing incidents reported by African-American passengers, specific to American Airlines."
It said the incidents "suggest a corporate culture of racial insensitivity and possible racial bias" and advised travelers to exercise caution.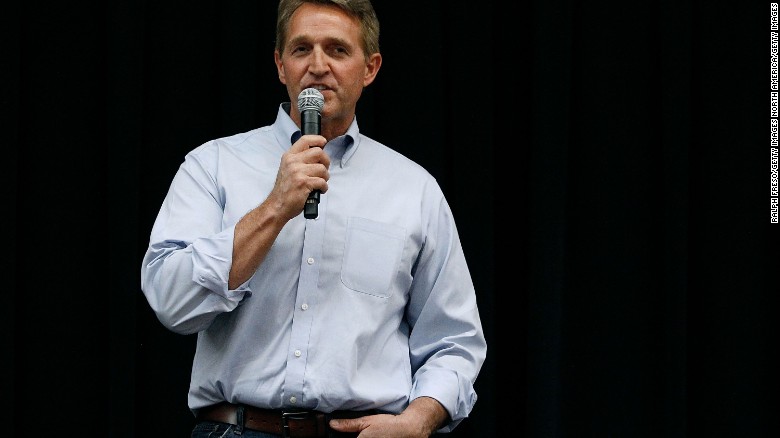 Flake, Corker can't break the GOP fever:
Any other President would be facing an existential crisis after being accused by two pillars of his own party of debasing the nation.
If Trump's presidency ends in disaster, Sens. Bob Corker and Jeff Flake may one day be remembered as heroes who pleaded with the Republican Party to change a ruinous course, after baring their political souls to assail the President on Tuesday, accusing him of trashing the values and norms on which American democracy was built.
5 teens denied bond in deadly highway rock-throwing case:
A judge denied bond Tuesday for five Michigan teenagers charged with throwing a rock off a highway overpass and killing a passenger in a van.
The group of teens, aged 15-17, were arraigned in Genesee County district courtroom. They are accused of throwing a 6-pound rock off an overpass near Flint, Michigan, on October 18, fatally injuring 32-year-old Kenneth White.
White was riding home from work when he was struck in the face, head and chest by the rock that crashed through the windshield of the van in which he was a passenger.
THE TRACK PHENOM WHO CHOSE COLLEGE OVER RICHES
Move over Allyson Felix and Usain Bolt. Meet Sydney McLaughlin. She skipped going pro (and a big payday) for now—but it's not slowing her down from becoming the new face of track and field.
Robert Guillaume, 'Benson' star, dies at 89:
Actor Robert Guillaume, best known for his title role in the TV series "Benson," died Tuesday at his home in Los Angeles. He was 89.
His wife Donna Guillaume told CNN he had battled prostate cancer in recent years.
"He kinda went the way everyone wishes they could, surrounded by love and in his sleep," Guillaume said.
She added that her husband really loved making music, entertaining and making people laugh. He treasured his role as Rafiki in Disney's 1994 animated film "The Lion King," she said.
CLICK HERE to read story